Bathroom & Shower Repair Service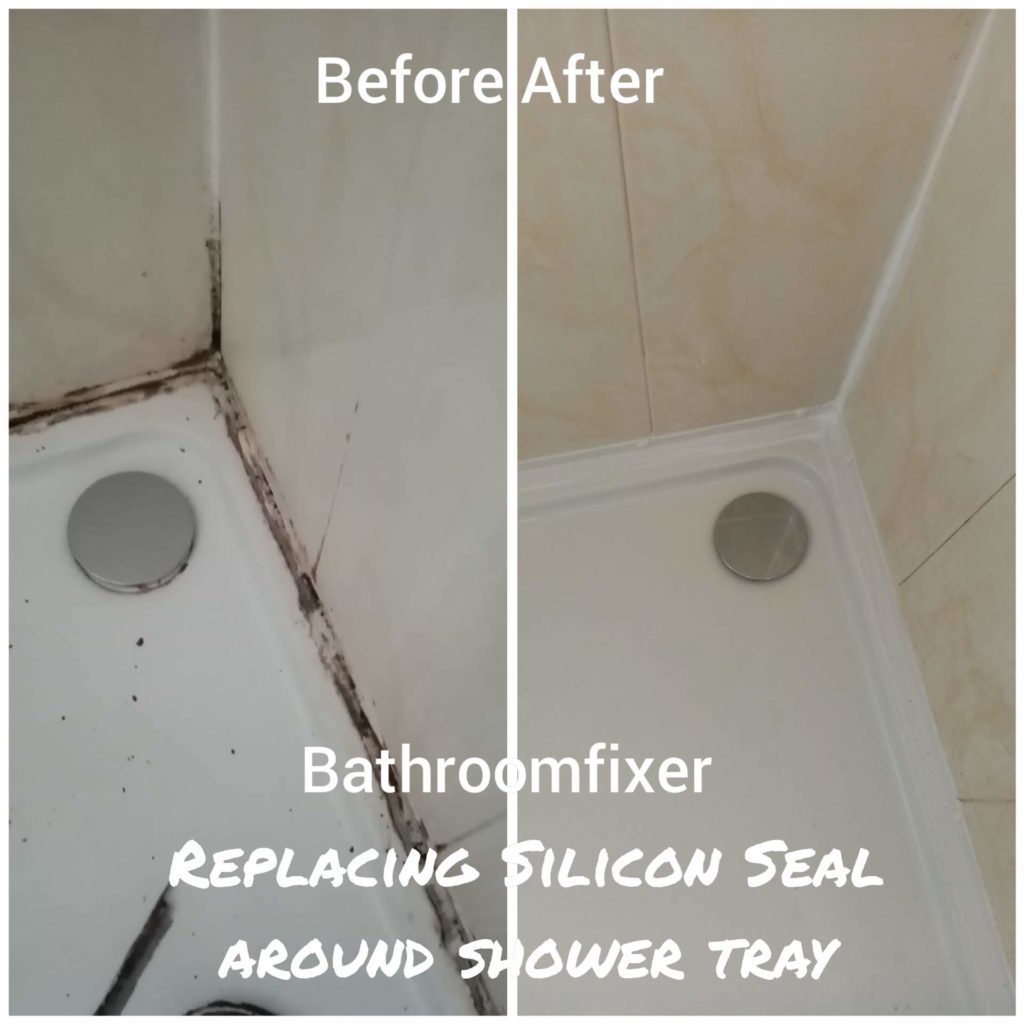 Very responsive to texts, emails and calls

Over 20 years experience

Background in Plumbing and Tiling

All work guaranteed

Only use high quality building materials

We use Long-lasting, mould-free, water resistant silicone 

We use Tile grout with a powerful anti-bacterial adhesive resisting mould and water resistant.
Leaks – fix and find Leaks from both shower and baths.

Tiles – replace tiles

Grout – re grout, replace

Bath & Shower Seal – replace seals between bath and the shower tray

Panels – replace bath panels

Doors – fit new shower doors

Screens – fit new shower screens

Excellent Reviews for our Bathroom Repairs
" Fab job. I contacted Dave on saturday and today (Monday) he completed the job impeccably. The old bath tub sealant was replaced fully and the new sealant was applied perfectly leaving the bath tub area like new. I would recommend Bathroom fixer for any bathroom renovation job " 
Michael Dempsey
" Great experience here. Called this morning at 9.30. The shower leak was found and fixed by 5.30. Great service.  Recommend for sure "
Alan Murray
" After my son used bathroom fixer in his apartment and seeing the result I got my bath and shower resealed and regrouted. Great job and I will recommend " 
Aisling Matthews
Leaks from Showers and Baths
First Signs of a Leak
Your downstairs ceiling gets a brown stain.
Wood or plasterboard around shower or bath starts to stain or hole forms.
Water is dripping onto the kitchen floor
The wood in the hallway is starting to rise
Where's the bath or shower leak coming from?
The most popular causes of the shower and bath leaks are as follows
Crack or hole or missing tile grout
Missin, cracked or broken silicon seal between the tray and the tile
Cracked tile
Faulty shower door
Seals around the shower door
Crack or hole in the shower or bath tray
Loose or broken outflow pipe underneath the tray or bath.
Leak in the hot or cold water supply.
The overflow pipe not connected
What happens if you leave it?
Wall behind tiles gets weak – tiles start falling off.
The ceiling downstairs gets a large hole or collapses
The floor need to be taken
Walls need to be retiled or plastered or painted.
What do we offer?
We offer a find and fix solution
Find

 – Intensive detailed inspection to identify exactly where the shower / bath leak is coming from.

Fix

 – Normally we have a few solutions
We try to find and fix in the first visit unless the damage requires further work.
Possible Solutions to the bath or shower leak
Reseal the bath or shower
Regrout the tiles
Replace the outflow pipe
Replace shower door or shower screen.
For more, see our testimonials or get in touch
Clean Bath and Shower Tiles and Grout
We will clean the grout between bath / shower tiles and the bath / shower tiles. The bath / shower tiles may be black, yellow, brown now but we can make them white, cream, ivory or whatever color they were. We clean the shower / bath tiles and grout with chemicals, then scrape away the old tile grout, and refill with new tile grout. We polish all the tiles and grout and that's it – restored to New.
We use high quality grout, fine and smooth giving the perfect finish, extremely water resistant, repels dirt, high protection against the forming of mould fungus.
We can clean down the shower door and the shower door clean and clear.
Looks great - Looks clean - Looks New - Water tight - Strengthens tiles
Bath and Shower Resealing
Bath Resealing
Whether to cure a leak or just because the current sealant has become mouldy and unsightly, renewing the silicone sealant around a bath or shower screen provides a simple solution to freshen up your bathroom.
For a fixed price we will neatly and effectively renew the silicone sealant around your bath.
Our fixed price service includes a tube of quality white or clear silicon.
Text to 0877656063 to Book
Shower Tray Resealing
The most common water leak we are asked to deal with is a result of damage to the silicone seal around a shower tray. A fresh bead of silicone sealant applied by a professional is an effective way to ensure water tightness as well as a pleasing, mould free, appearance.
We charge a fixed price to reseal a shower tray, and just ask if you would like the shower enclosure resealed at the same time as the tray.
Text to 0877656063 to Book
Silicon Seals & Plastic Seals…
Replace Bath / Shower Silicon Seals 
We will remove the old silicon seals between the bath / shower and the tiles. Over time this gets black and moldy, worn and cant stick to the tiles and the bath / shower tray as strong as the silicon seal used to be.
When a seal breaks, its no longer water tight. Water will drip through the bath /shower seal and drip out of the bath / shower onto the bathroom floor. If the silicon seal is not replaced , then the leak can continue onto the ceiling downstairs.
Shower Bath Door Seals
We will replace the plastic seal at the bottom of the shower door or the bath panel.  
With constant movement over time, the seal rubbing against the shower tray or bath causes the plastic to break. Once its broken the bath seal is no longer keeping water in the bath. Water can escape through the gap between the door and the bath tray. Once water escapes from the bath then it can do anywhere causing damage until the leak is fixed
Reseal Shower or Bath
We remove all the old silicon
We clean and dry the area
We reseal with quality mould free silicon
Guaranteed waterproof and to look good
Loose Tile in Shower/ Bath

Its not going fix itself!!

Text to 0877656063 to Book
Replace Missing Tile shower/Bath
Tip: Replace Now!
Text to 0877656063 to Book
Over time grout and with constant use grout can get loose and come out. The primary purpose of grout is to seal the gap between tiles, tp form a waterproof layer preventing water getting between the tiles 
Secondly Grout effects how the bathroom looks. Grout with use and time becomes discoloured and gives off a worn tired look. 
To help solve these problems we offer a tile regrouting service.
We re grout tiles
We remove black mossy stains from grout
We refit loose tiles
Shower Parts we can supply and fit
 New Shower Doors
We supply and fit all shower doors and bath screens.
We fix existing shower doors
We seal around shower doors
Replacement bath panels, bath screens, hoses, shower holders